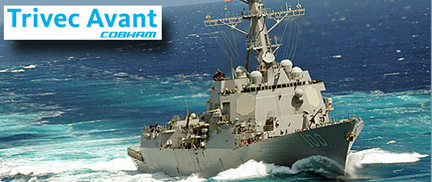 Trivec-Avant Corporation is being awarded an estimated value $45,517,301 indefinite-delivery/indefinite-quantity contract to fabricate, test and upgrade the Ultra High Frequency (UHF) satellite communication (SATCOM) Antenna System, which includes the small ship variants (SSV) of the Antenna System, Mobile User Objective System (MUOS) deck box backfit kits, systems spares, as well as engineering and training services.
The Navy currently uses the OE-82/OE-570/OE-570A/WSC Antenna System and SSV to fulfill the antenna requirements of the UHF SATCOM program on various Navy surface and new construction ships. The SSV provides a UHF SATCOM antenna to coastal patrol craft, littoral combat ships, joint high speed vessels and other disadvantaged users that cannot accommodate the size and topside weight of the full-sized OE-570A Antenna System.
MUOS is a narrowband military SATCOM system that supports a worldwide, multi-service population of mobile and fixed-site terminal users in the UHF band, providing increased communications capabilities to smaller terminal users while still supporting interoperability to legacy terminals.
Work will be performed in Huntington Beach, California, and is expected to be completed by July of 2018. The Space and Naval Warfare Systems Command, San Diego, California, is the contracting activity.